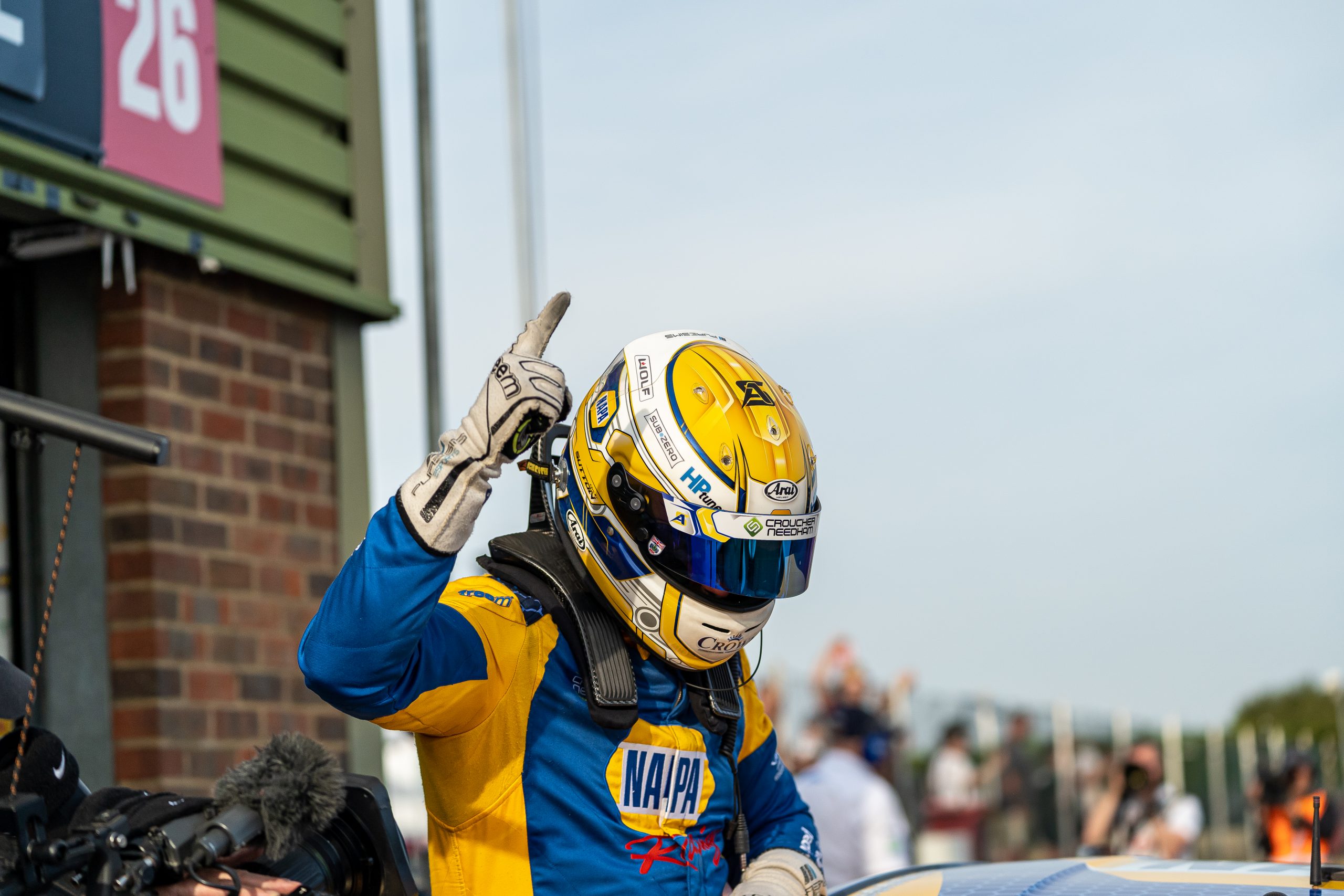 One Year of NAPA Racing UK
---
09 Dec 2022
Category:
December 9th, 2022 marks the first anniversary of NAPA Racing UK. A year ago on this day, NAPA announced its presence in UK motorsport with a two-car team in the Kwik Fit British Touring Car Championship (BTCC) — and what a year it's been!
THE CREATION OF NAPA RACING UK
NAPA has seen incredible success from its vested interest in motorsport in the USA over the years, most famously sponsoring NASCAR driver Chase Elliot.
This legacy meant bringing NAPA to UK motorsport was a key ambition of the brand since its launch across the pond in 2019.
With the BTCC being the 3rd longest-running motorsport series in the world (after NASCAR and F1), and the only major motorsport series to broadcast its entire season live on a free-to-air television network, it granted NAPA the perfect opportunity for a bombshell debut.
In December 2021, NAPA Racing UK officially partnered with Motorbase Performance to put together a phenomenal two-car BTCC team and showcase NAPA on a new scale.
"BTCC has provided us a fantastic platform to raise the profile of the NAPA brand," says Adam McNaney, NAPA Marketing Manager. "From its dedicated following to considerable media exposure, our association and coverage have provided significant lead generation opportunities."
THE FIRST LAP
In the months following the launch, a series of vital announcements proved NAPA Racing UK's commitment to making its maiden motorsport voyage one to remember.
Three-time Porsche Carrera Cup GB Champion Dan Cammish and three-time BTCC Champion Ash Sutton announced their 3-year contracts with NAPA and Motorbase Performance in December 2021.
With both drivers reigning champions in their respective 2021 motorsport seasons, and Cammish making his return to touring cars, the news of the NAPA superteam was met with great excitement from fans.
The hotly anticipated livery reveal soon followed, and the striking blue and yellow design quickly became a fan favourite. Gamers recreated the NAPA livery with expert detail in games like Forza 7 and Gran Turismo, and NAPA Racing UK would later win the fan-voted BTCC Livery World Cup 2022, claiming the top spot of all liveries from the 2022 BTCC season.
As testing with Sutton and Cammish got underway, NAPA further positioned itself as the new face of motorsport with an expansion into the Porsche Carrera Cup GB.
The brand partnered with top team Joe Tandy Racing (JTR), led by Le Mans 24 Hours winner Nick Tandy, and revealed a sleek Porsche livery to be driven by former World Karting Champion Hugo Ellis in his debut PCC GB season.
HIGHLIGHTS ON THE GRID
The entire NAPA Racing UK team worked with the utmost drive and dedication to make each race weekend count. Here's some of our top highlights from the season!
Donington Park: It proved to be a heated start to the season for Dan Cammish and the team after a fuel line split, causing a car fire during qualifying. After a herculean effort, the mechanics made sure Dan was on the grid for the first race the next morning.  Ash claimed his first podium of the season in the NAPA Racing colours.
Brands Hatch (Indy): Dan Cammish was back on track at a wet Brands Hatch, securing P2 and P3 finishes with star driving.
Thruxton: Ash climbed the drivers' leaderboard to 2nd place with an impressive P3 hat-trick.
Oulton Park: Ash continued his momentum with double P2 and Dan celebrated his 100th BTCC start.
Croft: In an action-packed weekend, Dan hopped on a helicopter from Goodwood Festival to his home circuit at Croft.
Knockhill: Following the reinvigorating success at the Snetterton tyre test day where Dan and Ash claimed P1 and P2 finishes, Ash made the best possible start to the second half of the season at Knockhill by delivering NAPA's first BTCC victory.
Snetterton: Another incredible P1 victory secured by Ash Sutton.
Thruxton: Ash and Dan delivered dream results with first 1-2 double victory and a total haul of 4 podiums. Dan achieved his first P1 of the season with a faultless lights-to-flag win, and in a later race allowed title contender Ash to take the lead and secure valuable points.
Silverstone: More brilliant teamwork from Dan Cammish enabled teammate Ash Sutton to secure a five-point series lead ahead of the highly anticipated BTCC 2022 finale.
Brands Hatch (GP): NAPA Racing UK leaves its debut season as the 2022 Teams' Champion, with Ash Sutton as Drivers' Vice Champion and Motorbase Performance/Ford as Manufacturers'/Constructors' Vice Champion.
HIGHLIGHTS OFF THE GRID
The BTCC racetrack wasn't the only place to find excitement this season.
NAPA Racing UK is grateful to say there have been countless incredible opportunities for brand awareness throughout 2022.
Of course, NAPA would be nothing without you: our incredible fans and customers.
NAPA invited over 500 customers to races across the season with exclusive VIP passes.
NAPA Racing merchandise received an incredible response, selling out twice over at the first race weekend.
Many fans snapped pictures of the NAPA sales car around the country (#ISpyNAPA).
The NAPA Challenges series featuring Dan and Ash across the @NAPARacingUK socials were a fan favourite!
THE TEAM
Oly Collins, Motorbase Team Manager:
"What a fantastic debut season we've had at NAPA Racing UK both on and off the track. To have started as a new team with two new drivers and key technical personnel behind the scenes, it's been a great first season for everyone involved to be extremely proud of! The icing on the cake has to be securing the overall Teams Championship trophy along with 2nd in the Drivers' standings.
Whether it's been the eye-catching livery of the race cars or the amazing team spirit, the outstanding social media activity or the first ever 1-2 finish at Thruxton, it's been an outstanding start to the NAPA Racing UK BTCC journey. 2023 is full of promise and based on the foundations laid out this year we have high hopes of securing more silverware for the trophy cabinet!"
Dan Cammish, NAPA Racing UK BTCC Driver:
"I am very much looking forward to the season ahead with NAPA Racing UK. I feel I'm in the best place possible, and proud to be part of such a fantastic team who combine professionalism with an enjoyable working environment. NAPA Racing UK have been brilliant and welcomed me into the family from the very beginning.
Motorbase are working hard to ensure we have the best possible chance of success, and I'm confident we'll start the new season in great shape. Last season was difficult at times, but we learned a great deal and had a much stronger end to the campaign. I'm confident we'll start even better than we finished, and I'm certainly excited to get back on track as soon as possible."
THE FUTURE OF NAPA RACING UK
As 2022 comes to an end, NAPA Racing UK looks onward — and motorsport fans do, too. Keep an eye on our socials @NAPARacingUK for exciting announcements coming soon!