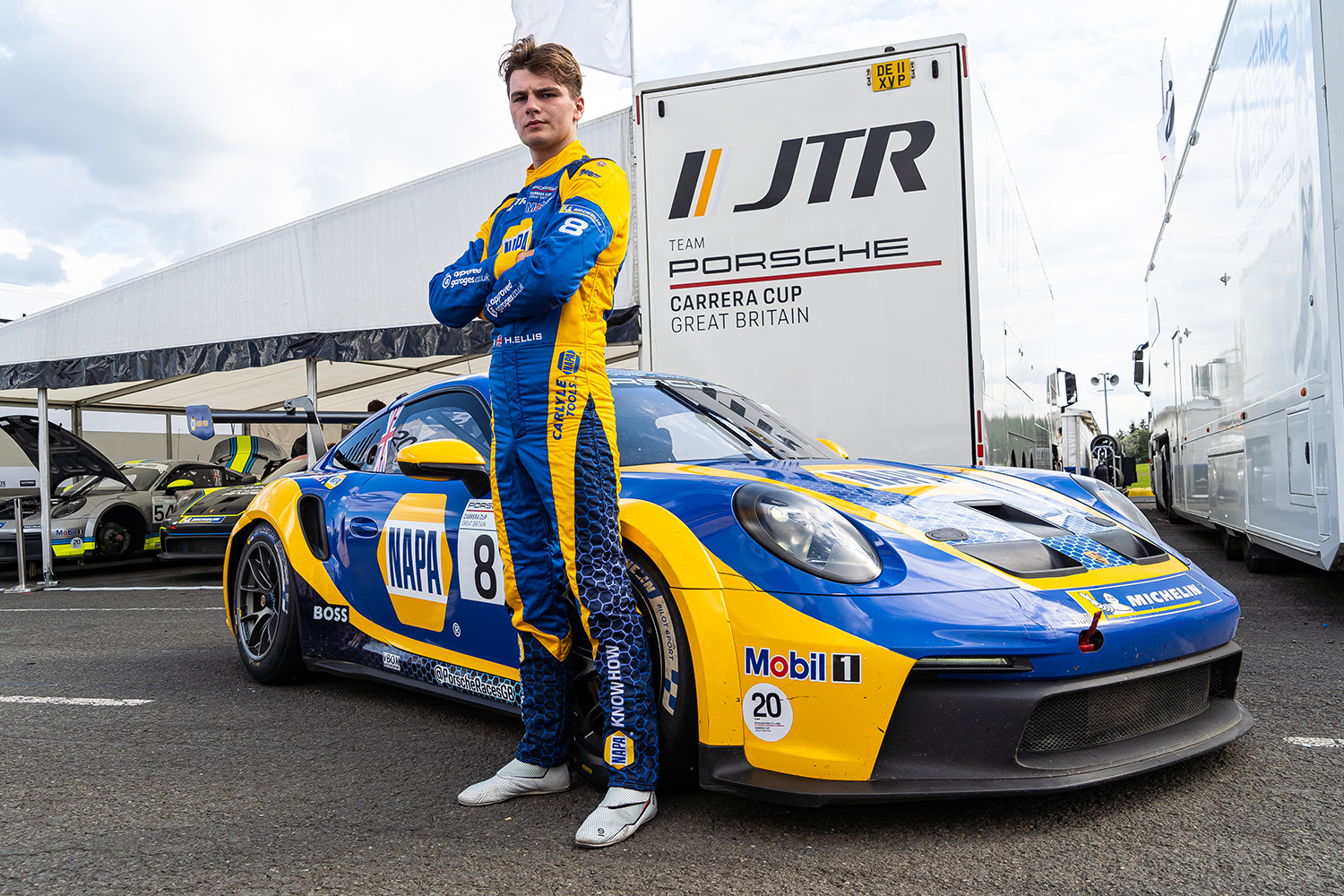 Hugo Ellis Takes On Carrera Cup
---
08 Aug 2022
The Porsche Carrera Cup GB (PCC GB) is the perfect opportunity for ambitious drivers to showcase their talent and accelerate their progression in the motorsport world. PCC GB celebrates its 20th anniversary this year and supports Kwik Fit's British Touring Car Championship at many of the country's most renowned race circuits.
Former World Karting Champion Hugo Ellis has embarked on his maiden season in the country's fastest one-make championship in his No. 8 NAPA Racing UK branded Porsche.
We caught up with his dad and biggest supporter, Gary Ellis, to learn more about the upcoming racing star.
CHILD CHAMPION
20-year-old Hugo Ellis is a fresh face in the world of car racing, but he comes to the Carrera Cup armed with an impressive history in kart racing. Starting at age six, Ellis could be found at the racetrack most weekends.
Within two years, he was consistently top five on the leaderboard despite competing against cadets as old as 13. He left the junior category at age 11 due to his height and skill, and he secured a spot on the podium in his first senior race.
This all led to the 2016 IAME International Final in Le Mans. Racing in the senior category, 15-year-old Ellis was the youngest go-kart driver on the grid. A couple of unfortunate races during the pre-finals saw him starting 16th in the 34-car final, but that didn't deter him. He was confident he'd be able to climb to the top three with a good start — and he did. With a lot of skill and a bit of luck, he won the senior championship. His dad, Gary Ellis, cites this as his proudest moment.
With upward of 100 wins in karting ("Maybe more," says Gary), Hugo graduated to the BRSCC Avon Tyres National Formula Ford Championship in 2018. Despite engine malfunctions preventing him from practising with the single seater vehicle before the championship began, he secured second place in the second race and broke the Castle Combe lap record in the fourth. Unfortunately, his promising start ended abruptly when he withdrew due to personal circumstances. His racing career came to a halt.

BACK ON TRACK
The Porsche Carrera Cup's 20th anniversary marks Hugo's grand return to racing after a four-year hiatus.
While the championship proudly advertises itself as the perfect audition for upcoming racing talent, it's rare — if not unheard of — for the drivers to have no experience behind the wheel of a racing car. Many competitors have been racing the popular circuits for several years. Hugo, meanwhile, has been discovering them in real-time, and he joined the Carrera Cup Pro-Am category with only karting and a brief spell in single seaters on his ledger.
"He's enjoying it," says proud dad Gary. "He's pleased to go back to motorsport; it was a massive part of his life."
If his history shows us anything, it's that Hugo Ellis is quick to rise to any challenge. At the rainy Brands Hatch race in May, Ellis climbed the grid 11 places into third before untimely contact on the final lap knocked him back.
He learns and improves in every race, with support from his team at Joe Tandy Racing (JTR) — the same team that once supported NAPA Racing UK's Daniel Cammish to his British Formula Ford Champion title in 2013.
Cammish would later go on to win the Porsche Carrera Cup Championship in 2021 and is now driving for NAPA Racing UK in the BTCC with teammate and reigning champion Ashley Sutton.
JTR's Nick Tandy, a professional racing driver for Corvette, has taken 20-year-old Ellis under his wing. NAPA has joined him, supporting Ellis with custom NAPA Porsche livery, overalls, and more.
"The car looks incredible, and the team at NAPA is just fantastic," Gary says. "We couldn't wish to be in a better team than we're in. The people around us are so good; it's a real family environment. We've got a current pro racing driver who's won multiple events. I can't emphasise enough that if we do well, it'll be down to the assistance and help from the team."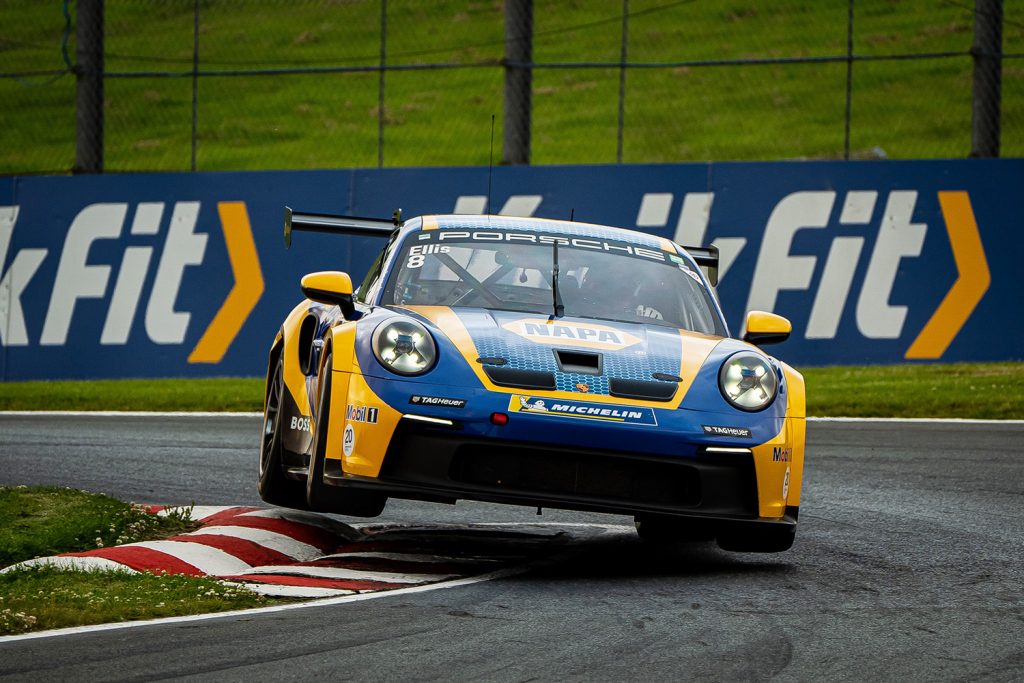 FUN FACTS
In an impressive display at Oulton Park in June, Ellis lifted his No. 8 Porsche onto one wheel as he navigated a bend! (Pictured right)
When he's not on the track, he drives an Audi S4.
He's an apprentice carpenter by trade.
His middle name is Bentley, like the car manufacturer.
He's 6'3" — and has been since he was 14!
THE FUTURE OF HUGO ELLIS
While the Porsche Carrera Cup 2022 season is underway, Hugo's goal is to get to the front of the grid. Afterwards, he plans to stay with Nick Tandy at JTR and build a name for himself as a professional racing driver.
With his history of success, one thing's for sure — Hugo Ellis is one to watch.
Follow us @naparacinguk on social media and keep up to speed with Hugo Ellis and NAPA Racing UK updates!