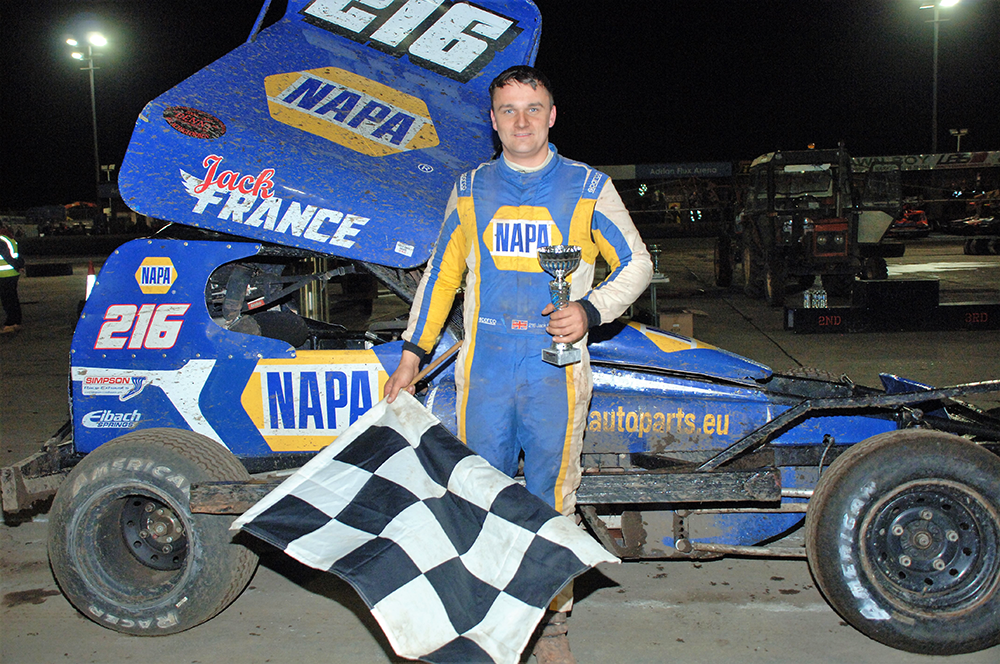 Rollercoaster Summer Leads to BriSCA Race Win
---
26 Oct 2022
Category:
While the NAPA Racing UK BTCC team enjoyed a thrilling race season, winning the BTCC Teams' Championship, NAPA's Jack France had a tumultuous summer in the British Stock Car Association Formula One (BriSCA F1).
After achieving Star Grade in spring, July and August were a "rollercoaster." France picked up valuable points, but some races were thwarted by grand misfortune. Three punctures in three races were a trying time for the team — especially when the #216 stock car had been running in the top 5 positions.
Despite the bad luck, Jack qualified for the Semi Finals to battle for a place in the September World Final. The two Semi Finals were held at Bradford and Skegness, with Jack taking part in the latter.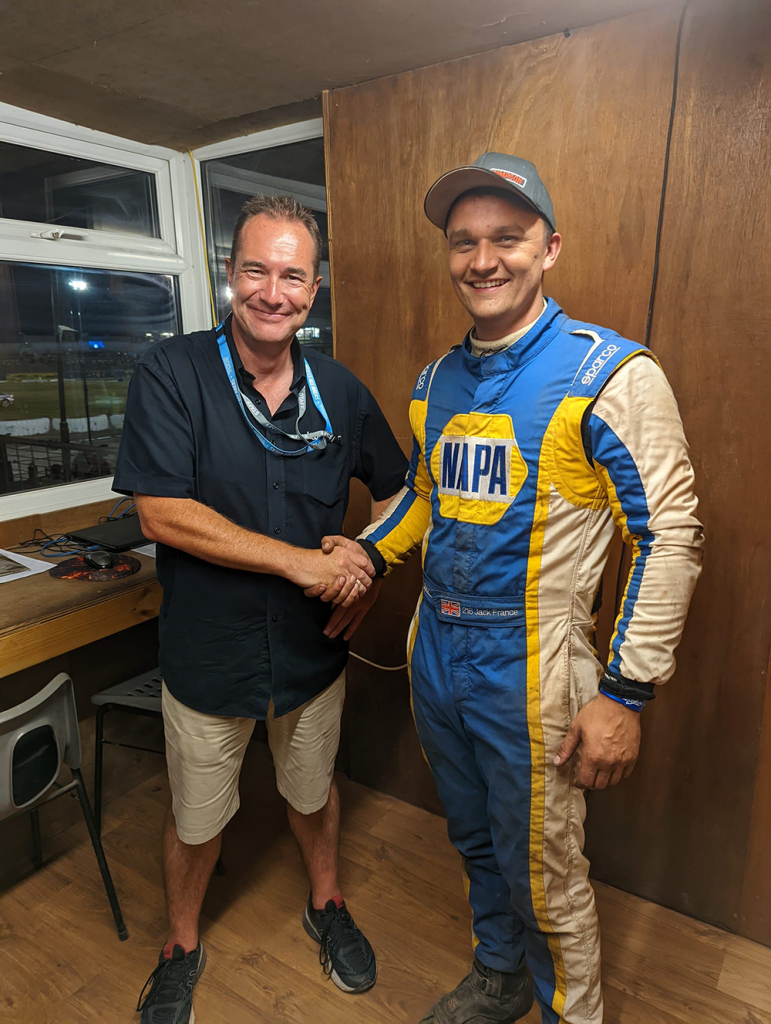 The stock car team usually specialise in shale surface tracks, so the car was adjusted in anticipation of Skegness Circuit's tarmac. Unfortunately, a tragic prop shaft failure ruled the NAPA machine out of the running after an exciting race.
A voice more commonly heard on ITV4's BTCC television coverage was on hand for the occasion as David Addison made a guest appearance to commentate on the stock car racing. NAPA Racing UK's Jack France joined him in the commentary box for part of the event.
"It was a challenging time," reflected Jack, "but we will come back!"
France would soon prove to be a man of his word.
Bouncing back
Returning to Bradford's Odsal stadium on 27th August, Jack's impressive performance on his home track brought the NAPA machine home in second place in Heat 1, followed by fourth place in the second heat.
More great results followed at Sheffield, Mildenhall, and Northampton, with the NAPA-branded stock car collecting two more fourth place finishes in Jack France's capable hands.
Fortune would dip again with the car sustaining damage at Bradford in October. Having qualified for the final, Jack spun while challenging for the race lead and was hit by another car. The team worked hard to repair the vehicle for King's Lynn one week later on 22nd October — and the hard work paid off. Jack secured an incredible P1 victory at the Norfolk circuit with a phenomenal drive.
With momentum back on his side, Jack is looking forward to the rest of the season. The focus now turns to qualifying for the Semi Finals ahead of the 2023 World Final. There are a number of opportunities for the NAPA Racing UK driver to secure vital points before the year is out.
Tune in
BriSCA F1 is set to feature on BBC's Top Gear following Andrew 'Freddie' Flintoff competing in the formula at King's Lynn on Saturday 22nd October. It will feature on BBC1 this autumn.
Follow @NAPARacingUK on social media to stay updated:
Photography credit: Colin Casserley