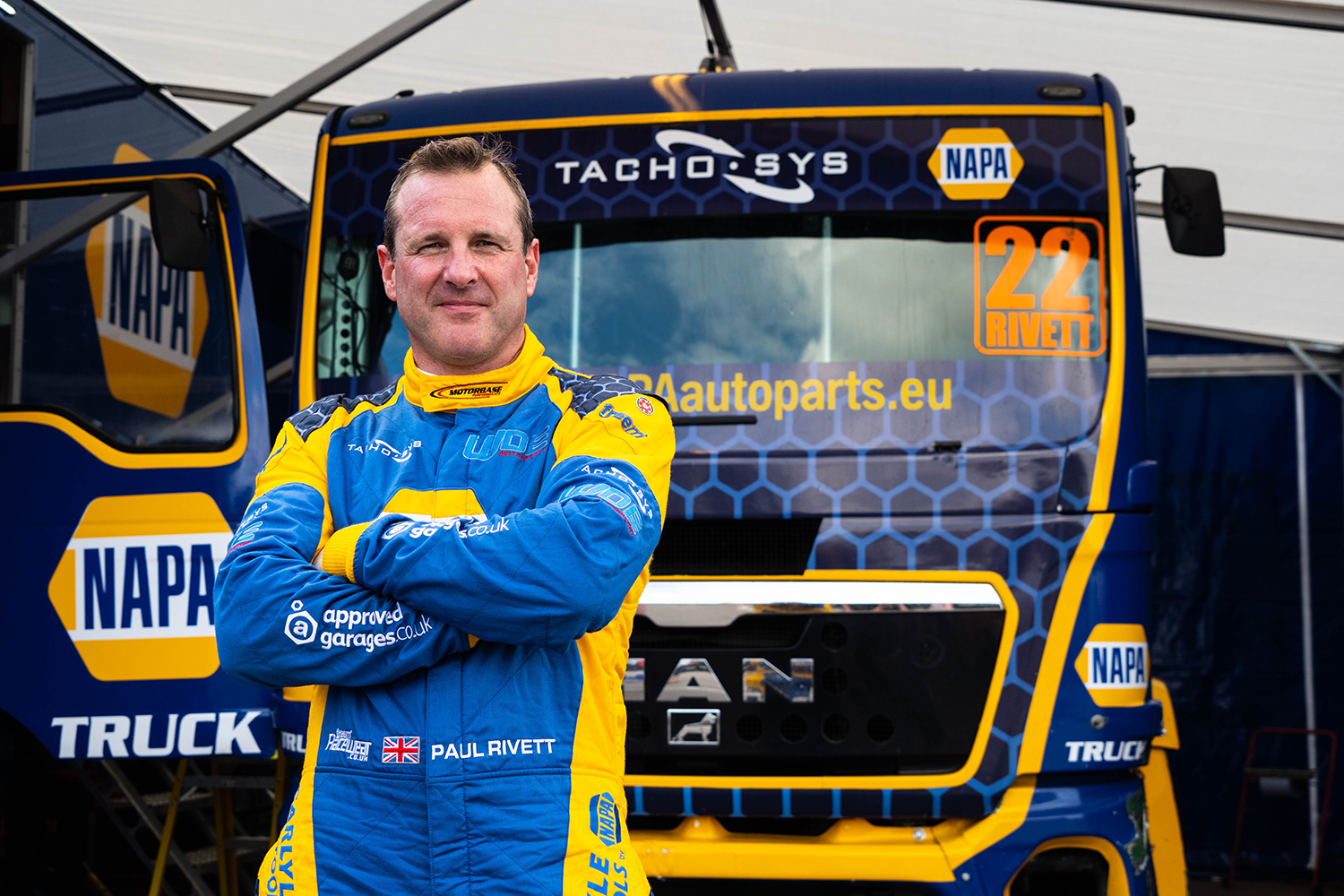 NAPA Racing UK Joins BTRC 2023
---
20 Jan 2023
Category:
NAPA Racing UK reunites with Paul Rivett for a super-sized season in the British Truck Racing Championship 2023.
From rookies to BTCC Team Champions, NAPA Racing UK had a phenomenal debut year in motorsport in 2022. This included a one-off Truck Racing appearance in the Convoy in the Park Festival, bringing NAPA Racing and NAPA Truck together for a thrilling summer event.
NAPA Racing UK is invested in building that partnership even further in 2023. The team has secured a place in Division 2 of the British Truck Racing Championship (BTRC), with four-time Renault Clio Cup UK Champion Paul Rivett jumping back in the driver's seat for an action-packed season.
The BTRC is "a championship like no other" with an annual spectatorship of 300,000. The competing trucks weigh in at over five tonnes and produce in excess of 1000bhp, delivering heart-stopping performances throughout the season.
Best known for his four incredible victories in the Renault Clio Cup UK, Rivett has been racing since the late 1980s. In 2019, he finished third in the BTRC and claimed the most pole positions overall.
NAPA Racing UK and Rivett first teamed up at Donington Park for the Convoy in the Park Festival 2022. They reunite this year for a full season with the iconic NAPA-liveried MAN TGS, kicking off on 8/9 April at the Brands Hatch Indy circuit.
THE TEAM
Fabiana Ferraro — NAPA Brand Manager:
"We are thoroughly delighted to bring NAPA Truck into the NAPA racing family. After the excitement had at Convoy in the Park, we're pleased to welcome back Paul Rivett as our driver of the MAN TGS in the BTRC. With the rapid launch of our commercial parts brand, NAPA Truck, this is the perfect opportunity to showcase the brand and take it to new heights, as previously done with NAPA Racing in the BTCC."
Paul Rivett — NAPA Racing UK:
"What an exciting year we get to look forward to, joining forces with NAPA Racing UK and Tachosys in the British Truck Racing Championship. It's a great privilege to join such excellent brands in this year's title challenge. I can't wait to get started at Brands Hatch on Easter weekend. My sights are set firmly on the Division 2 title for 2023!"
DON'T MISS OUT
British Truck Racing Championship race dates:
8/9 April: Brands Hatch (Indy)
20/21 May: Pembrey
8/9 July: Thruxton
12/13 August: Donington Park
16/17 September: Snetterton
7/8 October: Pembrey
4/5 November: Brands Hatch (Indy)
Follow @NAPARacingUK on social media for updates on the BTRC, BTCC, and more! 2023 will be a season you don't want to miss.