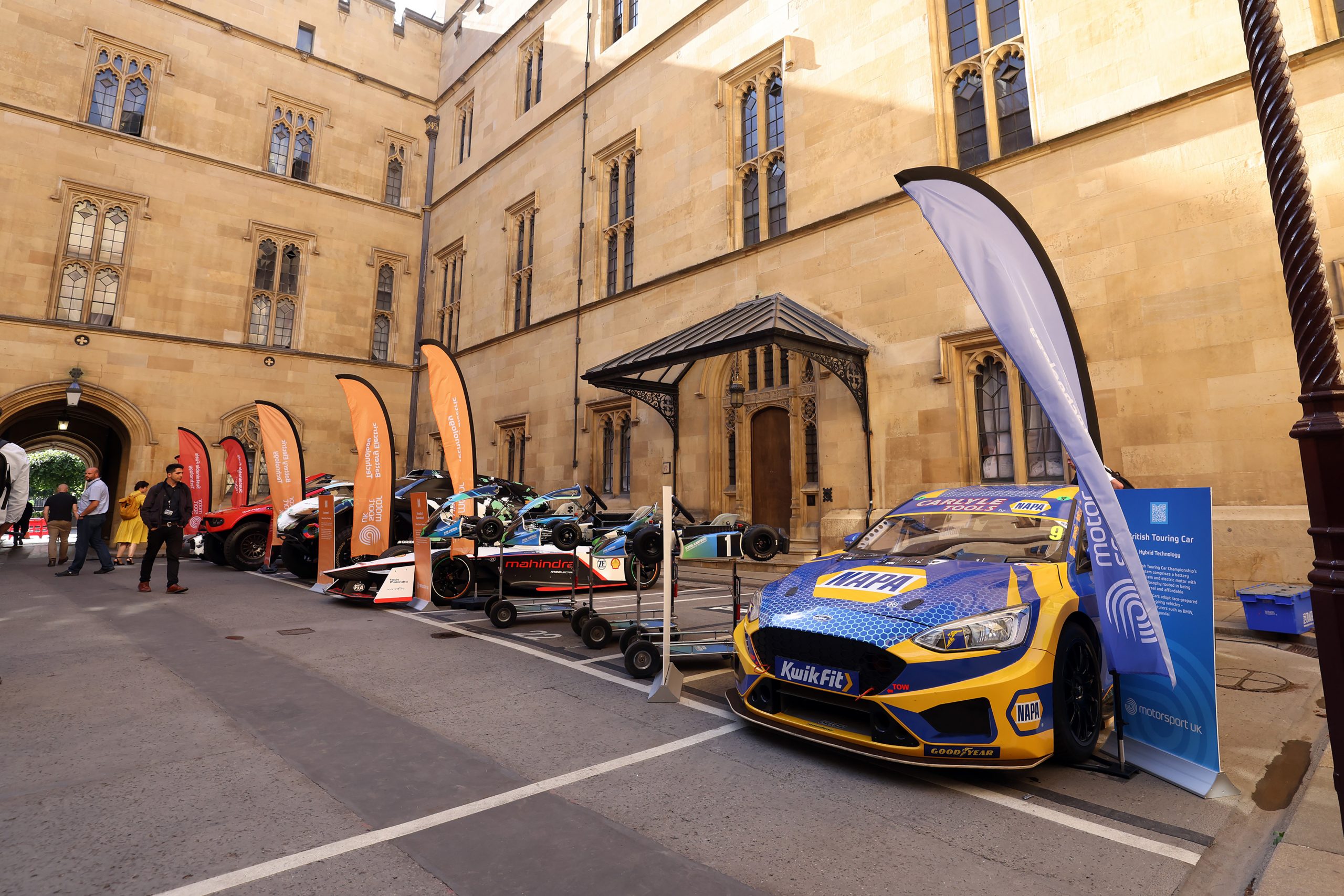 NAPA Attends British Motorsport Day
---
28 Jun 2022
Supported by NAPA Racing UK's presence, Motorsport UK and the All-Party Parliamentary Group for Motorsport presented Our Eclectic Future at the Houses of Parliament on Monday, 27th June 2022 to showcase the vision of sustainability on our roads. With climate change worsening, solutions are needed to shift to alternative net zero fuels and new technologies that promise a cleaner and more sustainable future.
NAPA on Display
To share the message and strategy of Our Eclectic Future, Motorsport UK held a vehicle display in Speaker's Court within the Palace of Westminster, including NAPA Racing UK's iconic Ford Focus, which features hybrid technology as seen in the Kwik Fit British Touring Car Championship (BTCC). The blue and yellow car was taken straight to Parliament after a busy four-day weekend tackling the famous Hillclimb at the Goodwood Festival of Speed.
The vehicle display showcased the innovations of modern motorsport engineers who are pioneering new forms of propulsion and creating an eclectic range of green solutions. While hybrid and battery electric technologies are already present on our roads, others such as sustainable fuels and hydrogen are not yet widely viable for consumers. However, these four technologies are already featured prominently in the world of motorsport. Further development and demonstration of these solutions are a key element of Motorsport UK's sustainability strategy.
Speaker's House
The display accompanied a reception in Speaker's House with key motorsport officials and parliamentarians. Mr Speaker, The Rt Hon Sir Lindsay Hoyle MP, formally welcomed MPs, Lords, and members of the motorsport and automotive industries.
Parliamentarians had the opportunity to meet industry sustainability experts like Steve Sapsford of SCE and Paddy Lowe of Zero Petroleum. Sapsford presented the scientific data behind Our Eclectic Future, explaining why battery electric vehicles are ideal for inner city urban environments. In a Q&A hosted by Sky Sports F1 pundit Karun Chandhok, Motorsport UK Chair David Richards CBE emphasised the power of motorsport to influence consumer purchasing. Few industries contain so many highly skilled engineers with the motivation to continue pushing boundaries.
NAPA's Supporters
NAPA Racing UK received a positive reception at the event, with attendants praising the brand for its loud and proud support of its sponsorships in the Kwik Fit British Touring Car Championship.
As newcomers to the motorsport world, NAPA Racing UK has embraced it wholeheartedly. The NAPA livery can be found not only in BTCC but also the Porsche Carrera Cup, BriSCA, and the Mini 7 Championship.
Follow us on social media to stay up to date on all NAPA Racing UK news!
Photography credit: Christopher Ratcliffe / Motorsport UK