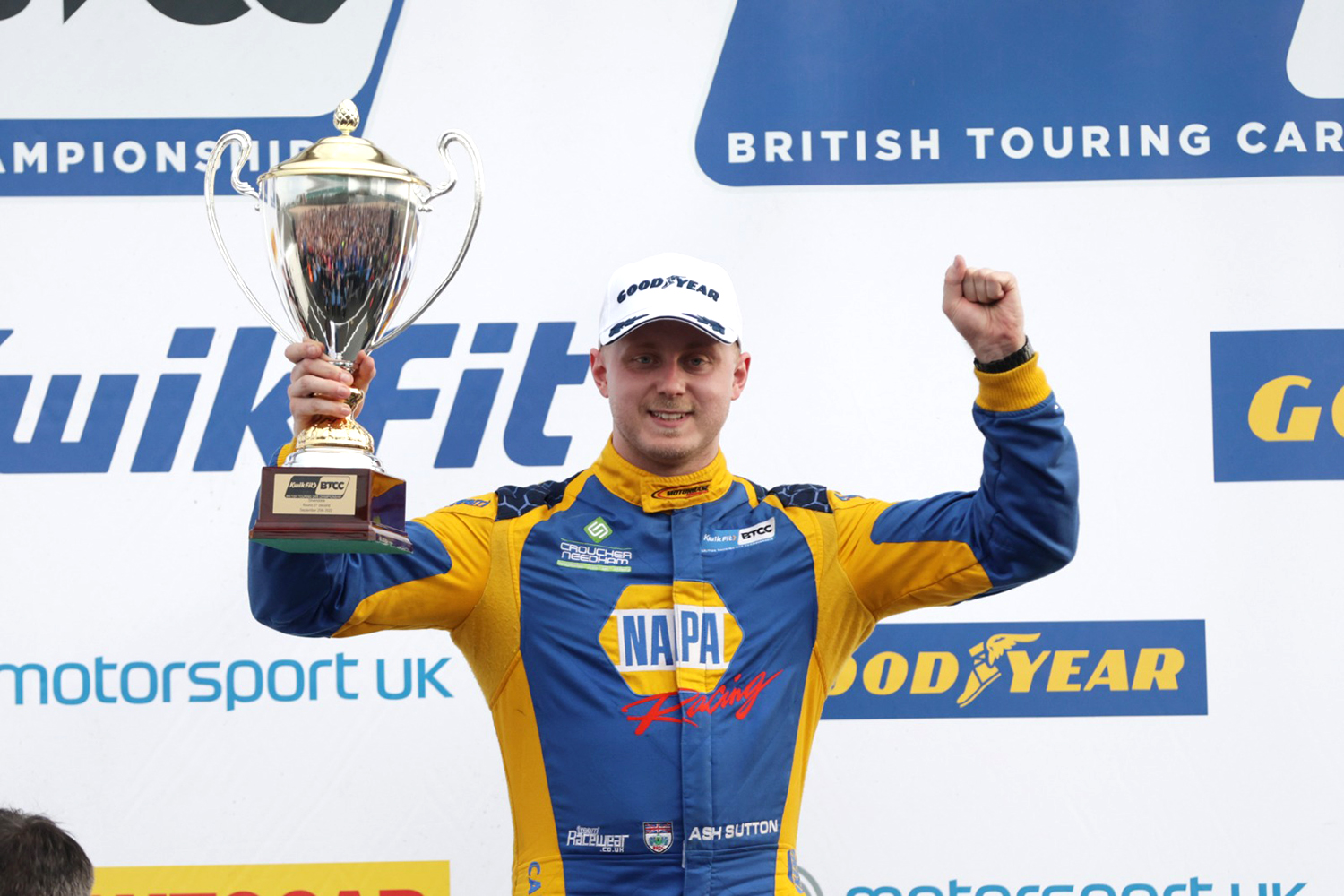 Sutton Takes the Lead at Silverstone
---
26 Sep 2022
Category:
Brilliant teamwork from NAPA Racing UK's Dan Cammish allows Ash Sutton to secure a five-point series lead at Silverstone ahead of the BTCC 2022 finale.
Following four wins and a total of seven podiums across the previous three race weekends, the NAPA Racing UK team were in high spirits as they took to sunny Silverstone National Circuit for the penultimate event of the Kwik Fit British Touring Car Championship (BTCC) 2022 season on the weekend of 24th/25th September.
From fifth on the grid in Round 25, Dan Cammish made a strong start in the action-packed event. Although he slipped into sixth in lap two, he moved up to fourth a couple of laps later as the action in the lead bunch became increasingly frenetic. Reigning champion Ash Sutton slipped to ninth after a sluggish getaway but fought his way back up the grid.
By lap nine, the two NAPA Racing UK Ford Focus STs were sixth and seventh, and the pair ran nose-to-tail for the remainder of the race. In a show of true sportsmanship — much like we've seen previously at Thruxton — Dan Cammish moved aside at Brooklands on the final lap to allow Sutton to claim sixth place. Those vital extra points placed Sutton in the lead spot in the Drivers' Championship standings.
Starting sixth and seventh for Round 26, Sutton and Cammish immediately gained a place off the line each. Sutton moved into fourth at the end of the first lap, while Cammish was shuffled back to seventh and remained there. Sutton soaked up huge pressure from title rival Tom Ingram and challenged Gordon Shedden for third place right to the finish, ultimately coming fourth.
Cammish started Round 27 from second on the partially reversed grid, while Sutton started fifth. Cammish's great start was badly hindered almost immediately when pole-starter Josh Cook moved sharply across to the right and Cammish's Ford Focus brushed the pit wall.
Sutton was able to climb the grid into second place at Becketts and remained there throughout for his 12th podium of the year. Meanwhile, Cammish battled hard with Cook over fourth place on lap five. Despite gaining the position with some great determined driving, he was ultimately edged back to fifth by Jake Hill on lap 18.
Following rounds 25, 26, and 27, NAPA Racing UK is set to go into next month's Kwik Fit British Touring Car Championship season finale challenging hard for all three of the category's main titles.
The team has opened a healthy 42-point lead in the Teams' Championship while reigning BTCC Champion Ash Sutton has moved five points clear at the top of the Drivers' Championship. Motorbase Performance/Ford is also second in the BTCC Manufacturers/Constructors title battle.
PORSCHE PODIUM
Sutton wasn't the only NAPA Racing UK driver to find himself on the podium at Silverstone National Circuit this weekend. Former World Karting Champion Hugo Ellis delivered a phenomenal performance in Round 13 of the Porsche Carrera Cup GB, securing P2 in the ProAm category.
THE TEAM
Oly Collins – Motorbase Performance Team Manager:
"Another great weekend as we get another step closer to the end of this season. There was some good teamwork on Saturday. The drivers and crews working together for a tow helped in qualifying which was important for this weekend. Then working together again in the races has ultimately given us a small edge over the competition going into the last weekend. In the BTCC, the smallest margin can be just enough. As tight as it is, it's awesome to be going into the final round leading the Drivers' Championship and leading the Teams' Championship. Now it's our job to make sure it's the same leaving Brands Hatch!"
Ash Sutton – NAPA Racing UK, No.1:
"It's like it's been scripted all year hasn't it, let's be honest! It couldn't be any tighter. You've got a great combination [at the top of the championship] of two front-wheel drive cars and a rear-wheel drive car. Brands is our home circuit for the team and we've had a mega weekend here, so I'm looking forward to Brands. We're in a really good place with the car — the second half of the season, I've felt at one with it. We've been able to dial it in, tweak it, chip away at it, and it's got us into the championship lead. I couldn't have asked for any more going into the final round."
Dan Cammish – NAPA Racing UK, No.9:
"This weekend reminded me of Oulton Park. We've been nicely well inside the top 10 all day but just not quite quick enough to mix it with the top four. We struggled to unlock that last little bit we needed. Race three was my big chance. It all happened so fast at the start, and I think I did just brush the wall but Josh [Cook] apologised afterwards. Without that, it might have been different. I played the team role again in race one to help Ash [Sutton], and as a team, we've scored really well with both cars. It's been a great weekend again for NAPA Racing UK."
WHAT'S NEXT?
Motorbase's home track, Brands Hatch in Kent, will host the BTCC season finale over the weekend 8th/9th October. Rounds 28, 29, and 30 will be contested on the full-length Grand Prix Circuit.
With just seven points separating Sutton and fellow title contenders Jake Hill and Tom Ingram, it's guaranteed to be a nail-biting conclusion.
THE STANDINGS
2022 BTCC Drivers Championship
1st Ash Sutton, 345pts
8th Dan Cammish, 184pts
2022 BTCC Teams Championship
1st NAPA Racing UK, 522pts
2022 BTCC Manufacturers/Constructors Championship
2nd Motorbase Performance/Ford, 648pts
Follow @NAPARacingUK on social media for updates as the BTCC 2022 season wraps up!