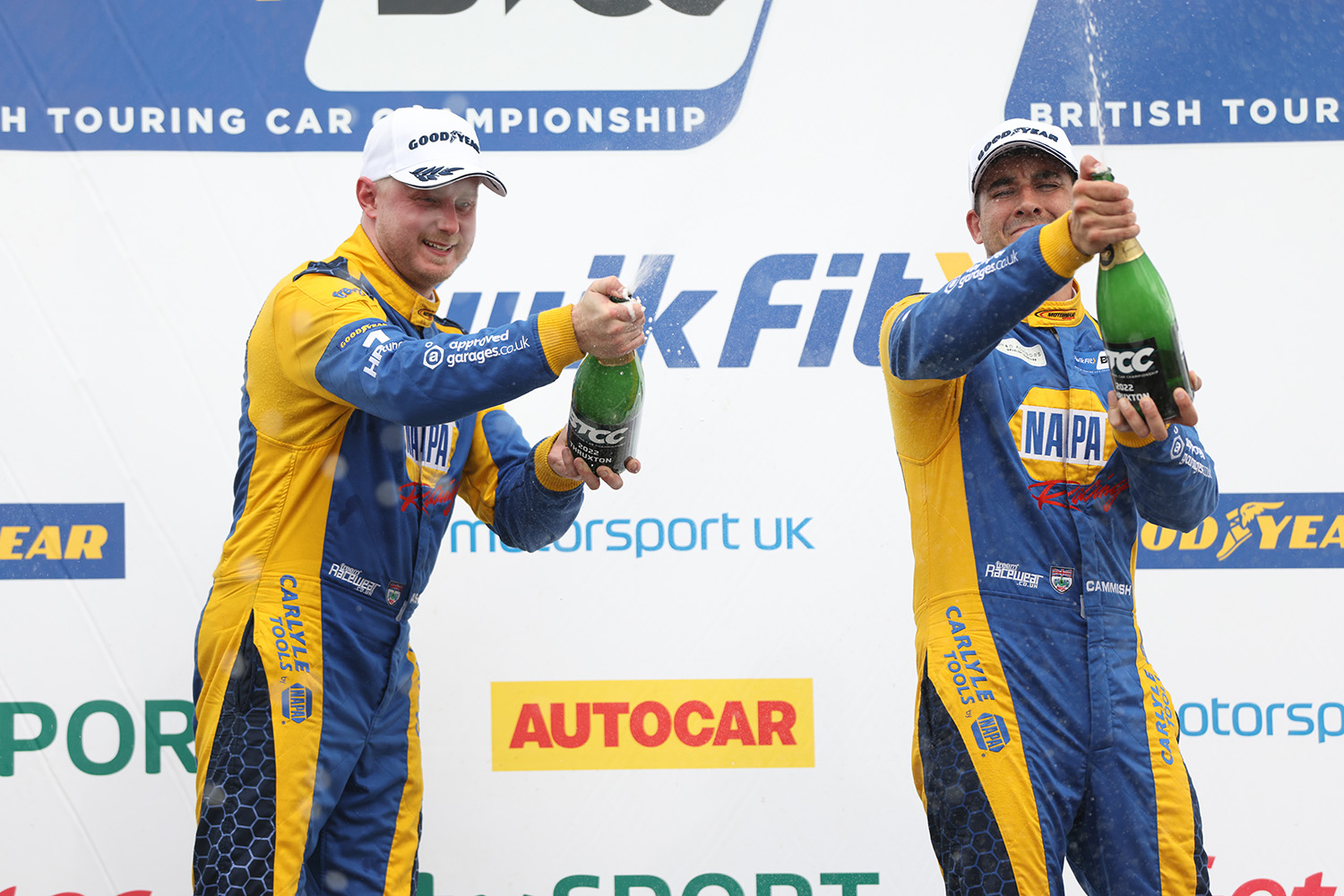 Double Victory for Sutton and Cammish
---
30 Aug 2022
Category:
Teammates Dan Cammish and Ash Sutton deliver dream results for NAPA Racing UK with first 1-2 victory and a total haul of four podiums at BTCC Thruxton.
Following back-to-back victories at Knockhill and Snetterton, NAPA Racing UK took to the ultra-fast Thruxton Circuit over the weekend, 27th/28th August, to continue their winning streak in rounds 22, 23, and 24 of the Kwik Fit British Touring Car Championship (BTCC).
Over the course of a fabulous couple of days in Hampshire, Dan Cammish finally achieved his long-awaited first win of the season in style, with a faultless lights-to-flag drive in round 22 at the wheel of his #9 Ford Focus ST. An action-packed first few corners momentarily saw Ash Sutton climb from fourth to second place before he ultimately finished third, securing a NAPA Racing UK podium double.
After converting his superb race one pole position — NAPA Racing UK's first in the BTCC — into an incredible win, Cammish was on pace to make it double in round 23.
Instead, he proved that teamwork makes the dream work and allowed title contender Sutton to go through on the penultimate tour and earn valuable points. Sutton — who also had fastest lap — duly took his third victory of the campaign in his landmark 200th BTCC race.
With team player Cammish following home in second, it marked the first one-two for NAPA Racing UK in the BTCC — though they achieved the same result in the mid-season Goodyear Tyre Test — and their second double podium of the weekend.
In round 24, Sutton charged through expertly from 11th on the grid to finish in fifth place and wasn't all that far away from another podium. Cammish started in 10th place and rose into ninth, before being edged back to 10th late in the game.
Their star performances allowed NAPA Racing UK to take home eight trophies in a single weekend, with the BTCC drivers earning two Manufacturers Championship trophies and a Teams Championship trophy in addition to their four wins, plus a late Snetterton Teams trophy after another team was disqualified.
THE TEAM
Oly Collins – Motorbase Performance Team Manager:
"What a weekend! It's been coming and this weekend it all came together. Highest scoring two drivers, team, and manufacturer of the weekend — it doesn't get much better than that! Dan has been exceptional all weekend and was rewarded with pole and his first win. He was unbeatable. It was also a fantastic weekend for Ash. A win, podium, and top five in the reverse grid race has him right up there in the championship as we get closer to the decider. For my role in the team, it's essential to have a team and, in particular, drivers who are the whole package — they're rarer than you might think. This weekend proved to me more than ever, I have the best in the pitlane!"
Ash Sutton – NAPA Racing UK, No.1:
"If you need a teammate, Dan [Cammish] is the man for that. He's shown that he's supporting the campaign and what we're trying to do as an outfit, and hopefully soon I can repay the favour. We got the fastest lap in at the start, I let Dan get some air, and then I tried to focus on getting a mix going on behind me. When [Gordon] Shedden and [Jake] Hill started battling I thought 'right, let's crack on' and then the call came to switch positions."
Dan Cammish – NAPA Racing UK, No.9:
"To finally take our first win of the season, and to do it in the manner we did from pole, is fantastic and especially after such a long time coming. It's a great reward for everyone who has kept the faith. We took an amazing pole in qualifying — the first for NAPA Racing UK — and it was a great start to race one which I was really happy about. In race two, it was all about what was best for the team and for the championship. I did everything right; it would've been two wins from two, but at the end of the day it's a team game and it was the right choice to make."
WHAT'S NEXT?
Rounds 25, 26, and 27 of the BTCC season — the penultimate race weekend of the campaign — will take place at Silverstone National Circuit in Northamptonshire on 24th/25th September.
THE STANDINGS
2022 BTCC Drivers Championship
2nd Ash Sutton, 305pts
8th Dan Cammish, 155pts
2022 BTCC Manufacturers/Constructors Championship
2nd Motorbase Performance/Ford, 576pts
2022 BTCC Teams Championship
2nd NAPA Racing UK, 453pts
Follow @NAPARacingUK on social media for updates as the BTCC 2022 season unfolds!