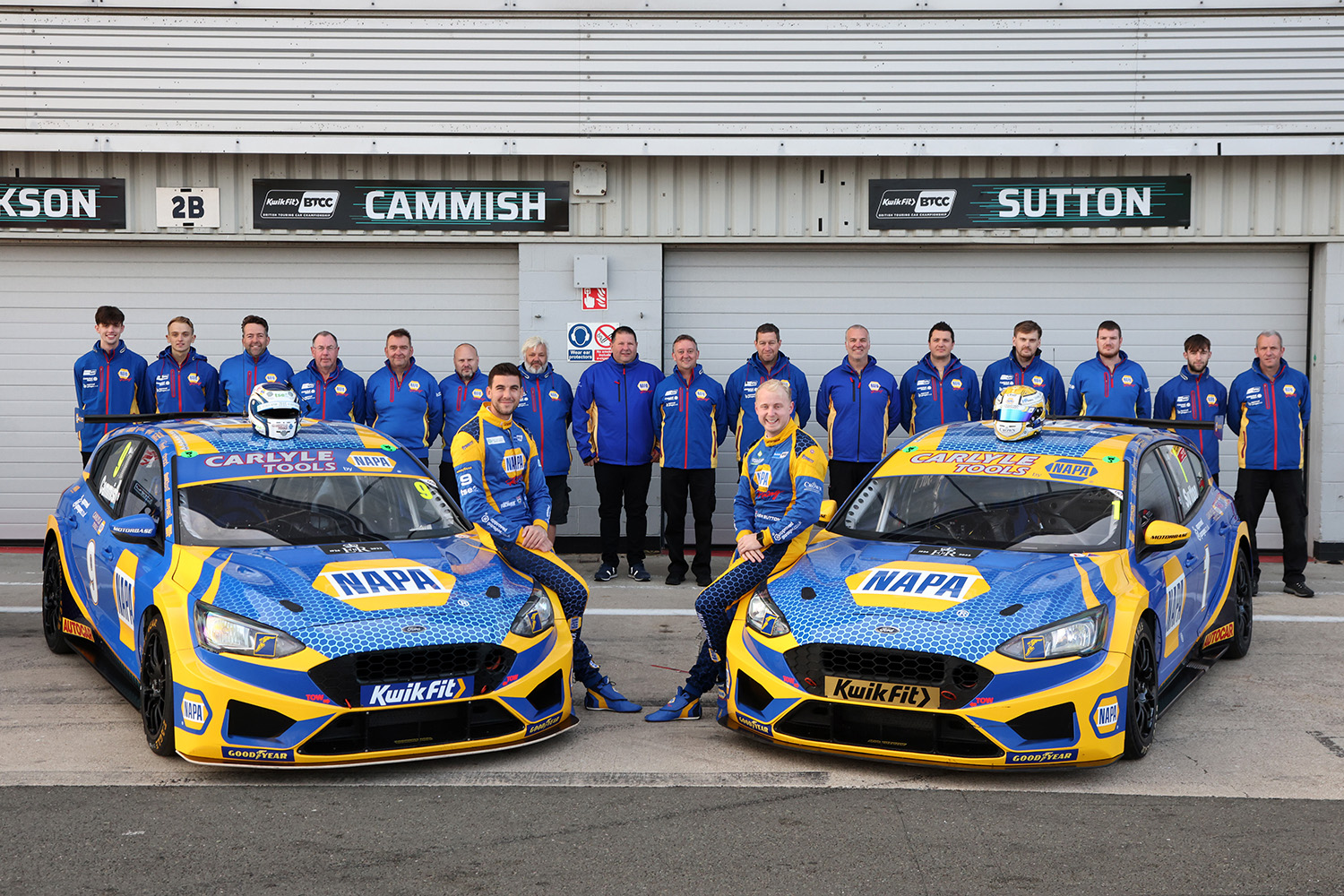 NAPA Leads into Exciting BTCC Finale
---
05 Oct 2022
Category:
NAPA Racing UK heads to Brands Hatch for the final race weekend of the team's debut BTCC season with reigning champion Ash Sutton in the lead and multiple titles up for grabs.
Brands Hatch Grand Prix Circuit provides the venue this weekend, 8th/9th October, for the eagerly awaited 2022 Kwik Fit British Touring Car Championship (BTCC) finale, where the NAPA Racing UK team will be battling for its first ever BTCC crown.
NAPA Racing UK goes into the last three races leading the Teams' Championship and Ash Sutton heading the Drivers' Championship, following a strong outing at Silverstone at the end of September. The BTCC Manufacturers/Constructors title is also up for grabs, with Motorbase Performance/Ford currently second.
ASH SUTTON
Ash Sutton — the reigning BTCC champion — has produced an excellent second half of the season, including three recent wins. With a total tally of 12 podiums so far this year, the three-time BTCC title winner heads into the finale with a five-point advantage at the top of the Drivers' standings.
While facing a major challenge in his bid to win the UK's premier motor racing championship in his first season with Motorbase and NAPA, Sutton is confident going into the Brands finale. Notably, if he claims the crown for a fourth time, it would be his first BTCC title in a front-wheel drive (FWD) car, in his maiden FWD season since his touring car debut in 2016.
DAN CAMMISH
NAPA Racing UK teammate Dan Cammish — eighth in the standings — is aiming for a big finish to his first campaign with the Motorbase-run squad. He certainly deserves it after a season badly impacted by some outrageous misfortune.
Having secured his first two podiums of the year during the visit to Brands Hatch's Indy Circuit back in May, Cammish then experienced some dreadful luck over the next five race meetings before finally getting the break he deserved at Thruxton in late August. There, he took NAPA Racing's UK's maiden BTCC pole position and converted it into a phenomenal lights-to-flag victory.
Cammish has also been an outstanding team player this year. After foregoing a second win at Thruxton to enable Sutton to claim the victory and extra points in race two of the weekend, he moved aside again to assist his teammate at Silverstone. His strong sportsmanship has been vital in getting NAPA Racing UK to where it stands today.
THE TEAM
Oly Collins – Motorbase Performance Team Manager:
"What a season! This season has had it all but, most importantly for us, we're aiming for glory in the finale in our own backyard at Brands GP. Ash has been here before, and so have a lot of the people in the team. We're top of the Drivers' and Teams' Championships going into that last round for a reason. At this stage we just need to keep doing what we've been doing this season and make our own luck going into the weekend. It's the BTCC and so often things can swing one way and then completely the other. Whatever happens, I'm sure it will be a typically tense final BTCC weekend."
Ash Sutton – NAPA Racing UK, No.1:
"I'm absolutely buzzing and can't wait to get to Brands Hatch this weekend! If you'd have told me early on in the season that we'd be heading into Finals Day leading, then I'd have bit your hand off. Everyone at NAPA Racing UK has done a mega job to get us to this point and now we need to get it over the line. Seven points between three of us is nothing, you really couldn't script it. Anything can, and usually does, happen at the final round but I'm feeling very comfortable with the situation I'm in as I know the demands that come with the finale, both in and out of the car. I love the Grand Prix Circuit and I'm confident the car will be really strong. I'm just ready to go now!"
Dan Cammish – NAPA Racing UK, No.9:
"I've gone well at Brands GP in the past. I've won at the track every time I've raced there in the BTCC and it is a circuit I really enjoy. It's obviously a massive weekend for Motorbase and NAPA Racing UK, in the Teams' Championship, Drivers' Championship and the Manufacturers' as well, which is a great achievement in our first season together — and I'll have a role to play there. From a personal point of view, I really hope I can end the season challenging for wins and back on the podium. I'll be doing all I can for the team in the championship fight as I did at Thruxton and Silverstone. I can't wait to get to Brands and get started!"
TUNE IN THIS WEEKEND
Securing a championship title in NAPA Racing UK's debut motorsport venture would be a momentous occasion for the entire team. With just seven points separating Sutton and fellow title contenders Jake Hill and Tom Ingram, Brands Hatch sets the stage for a nail-biting finale.
Opening free practice at Brands Hatch GP Circuit will begin at 09.30 on Saturday, 8th October, with session two following at 12.05.
The last qualifying session of the BTCC season will follow at 15.40, streamed live online at www.itv.com/btcc
On Sunday, 9th October, round 28 will get underway at 11.30, round 29 is scheduled to start at 14.30 and round 30 is timetabled to begin at 17.15.
All three races will, of course, be screened live on ITV4 and streamed online.
THE STANDINGS
2022 BTCC Drivers Championship
1st Ash Sutton, 345pts
8th Dan Cammish, 184pts
2022 BTCC Manufacturers/Constructors Championship
2nd Motorbase Performance/Ford, 648pts
2022 BTCC Teams Championship
1st NAPA Racing UK, 522pts
Follow @NAPARacingUK on social media for updates — on the end of this BTCC season and beyond!