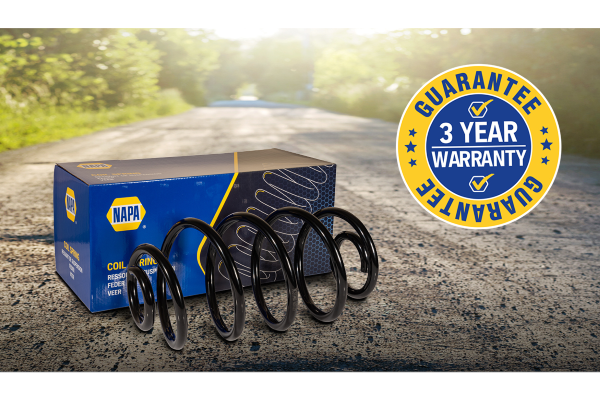 New to Range – Coil Springs
---
06 May 2021
Category: Product News
Developing a range of quality automotive parts that are tailored to every aftermarket need is one of NAPA's ongoing missions, and 2021 has been a year of new releases for a variety of vehicle applications.
Building upon this year's progress, we are excited to announce the introduction of an additional 183 new products to our coil spring range, including the following key vehicle applications:
NCS1421 – Rear Coil Spring – Ford Fiesta, 1.0. 13-18

NCS1438 – Front Coil Spring – Nissan Micra, 1.5, 06-10

NCS1441 – Rear Coil Spring – Suzuki Swift, 1.3, 08-11

NCS1457 – Front Coil Spring – Nissan Qashqai, 1.6, 10-14
This range expansion will help supplement our existing coil spring catalogue with parts designed to provide a level of quality and availability that reflects both current market demand and projected consumer trends to create the best possible service offering for the NAPA brand.
A broken or weakened coil spring can have a significantly negative impact on driving experience and vehicle suspension, leading to poor handling and increased tyre wear among other technical issues. As such, the importance of being able to source coil springs that meet OE specifications to ensure both performance and longevity cannot be understated.
At NAPA, we provide our customers with the peace of mind that comes with buying quality products from trusted manufacturers. All our coil springs are subject to stringent testing to guarantee OE performance that doesn't break the bank. And, with our three-year/36,000-mile warranty across the range, you can install our products secure in the knowledge that we can support you if the worst comes to pass.
If you would like to supply your garage or motor factor with NAPA coil springs or any other NAPA product, get in touch to become a NAPA stockist today.