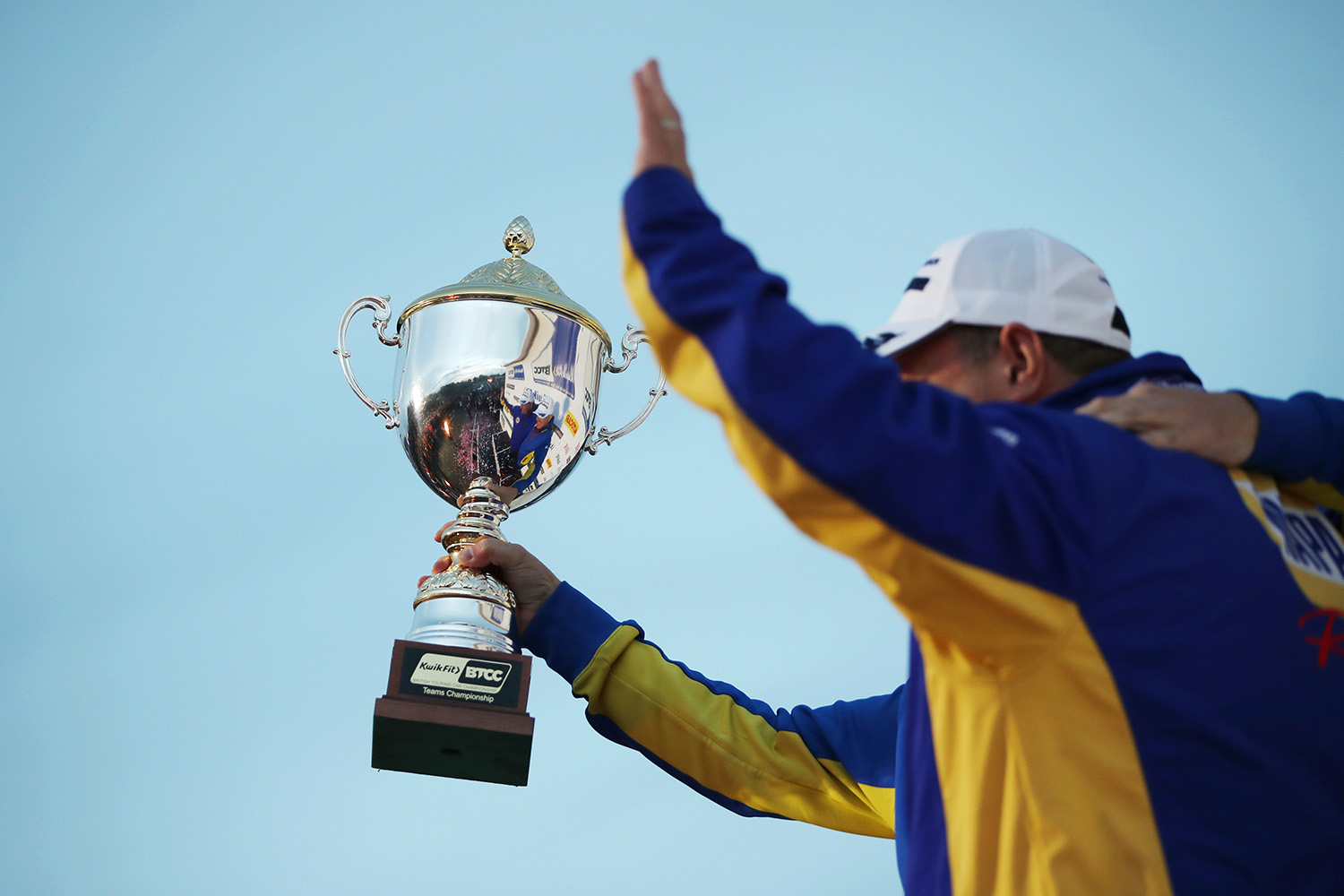 NAPA Wins BTCC Teams Championship 2022
---
10 Oct 2022
Category:
NAPA Racing UK becomes the BTCC Teams Champion in the company's maiden motorsport venture after a nail-biting race season.
The incredible 2022 season of the Kwik Fit British Touring Car Championship (BTCC) concluded at Brands Hatch Grand Prix Circuit this weekend, 8th/9th October, where NAPA Racing UK claimed the Teams' Championship title with an outstanding 57-point lead.
It's been a rollercoaster of a season for the motorsport newcomer. The front-wheel drive (FWD) Ford Focus STs presented unique challenges in the first stretch, but the NAPA squad worked tirelessly to prove what the cars are truly capable of — and with great success.
Former reigning champion Ash Sutton soared up the standings in the second half of the season with a total of 12 podiums and took the leading position in the Drivers' Championship as he headed into the finale. Meanwhile, teammate Dan Cammish secured four podiums of his own and showed true sportsmanship in helping Sutton climb the leaderboard at Thruxton and Silverstone.
ONE LAST RACE WEEKEND
With so much at stake, the finale weekend was always set to be peak BTCC action, and Round 28 delivered from the outset. Ash Sutton launched well from third on the grid with fellow second-row starter Dan Cammish attempting to keep Jake Hill's rear-wheel drive BMW at bay.
Contact early on left damage and hampered progress, but Sutton held onto third throughout the pressure-filled race, which was peppered with contact. Two early Safety Car periods punctuated the action. At the second restart, Sutton was the victim of another hit. In the end, after struggling with speed issues as well, he took fourth after Hill overtook him on lap 16. Cammish finished ninth.
From the second row in Round 29, Sutton made a great start to shadow title rival Hill. After a handful of laps, he began to lose ground and came under immense pressure from Colin Turkington. The BMW went through at Surtees on lap eight, but Sutton maintained fifth place to the flag, expertly resisting more pressure from George Gamble and Adam Morgan.
In the sister NAPA Racing UK Ford Focus ST, Cammish lost a couple of places on the first lap to drop to 11th, but he fought back well to reclaim ground. Climbing into the top 10 on lap four, Cammish took ninth from Bobby Thompson on lap six. He then took eighth at the finish due to a time penalty for Gamble.
THE FINAL DRIVE
Going into Round 30 third in the driver standings and 14 points shy of the championship lead, Sutton had a huge battle ahead of him. A sluggish start saw him drop from sixth to ninth, but he did all he possibly could and raced hard to fight back and climb into the podium placings.
In the end, he made it back up to an impressive fourth place. While he fell short of a fourth title win, Sutton still walked away from his first front-wheel drive season with the Vice Champion spot. With honour, he passed his number '1' onto the 2022 BTCC Champion, Tom Ingram.
Cammish began the race from third on the grid and instantly grabbed second on the run into Paddock Hill Bend in an impressive performance. Tragically, after contact from behind forced him wide, he dropped to seventh.
Always a true team player, Cammish kept Sutton's chief rivals at bay for some time before eventually finishing the final round in eighth place — and eighth in the standings.
NAPA Racing UK leaves its debut season as Teams' Champion, with Ash Sutton as Drivers' Vice Champion and Motorbase Performance/Ford as Manufacturers'/Constructors' Vice Champion.
THE TEAM
Oly Collins – Motorbase Performance Team Manager:
"Not quite the fairy tale ending we were all hoping for, but the whole team can hold their heads high this season. Winning the Teams' Championship is a huge achievement in the BTCC, and we proved numerous times this season to be the envy of others with our incredible team spirit.
There were a lot of changes over the winter which can often take time to work effectively, but the mixture of the original crew and the new members to the team proved to create a winning formula — a team I'm incredibly proud to be a part of! Congratulations to Tom Ingram and his team on a job well done this season. We now get to concentrate fully on some exciting plans over the winter with NAPA Racing UK and we're more determined than ever to come back and claim the number '1' back from Tom next year."
Ash Sutton – NAPA Racing UK, No.1:
"We gave it our all this weekend. It wasn't enough unfortunately but the boys and girls at NAPA Racing UK, Motorbase, and Mountune have all turned this package around. At the start of the year, we had a qualifying car, not a race car, and I think everyone wrote us off to some extent. We've proved them wrong being in with a shout of the championship into the last race. We all want the Drivers' title, but we've wrapped up the Teams' Championship for NAPA and that shows what me and Dan have extracted from the car. I can't thank everyone enough."
Dan Cammish – NAPA Racing UK, No.9:
"This day got away from us in a way, I'm disappointed about that. In race one I sort of shot myself in the foot. I was so desperate to help Ash, I just over-cooked it and then got caught up in dramas. I turned the corner for the next one, drove really well and we were racey. Race three, starting third, I thought we've got a great chance, but I didn't even make it through Turn Two. You do everything right and then get hit so hard by someone. You think to yourself, what do I have to do? There's too much lack of respect out there for my liking but, obviously, we've won the Teams' title so there's a lot to be proud of."
Adam McNaney — NAPA Racing UK Marketing Manager:
"In December last year, NAPA Racing UK was a logo on a piece of paper. Today, NAPA Racing UK are [Teams'] BTCC Champions and finished runner up in the Drivers' Championship. It's been a whirlwind but with an idea and a great team, the art of possibility became reality. Thank you to everyone that has helped us put NAPA Racing UK on the map."
THE FINAL STANDINGS
2022 BTCC Drivers Championship
2nd Ash Sutton, 382pts — RUNNER UP
8th Dan Cammish, 207pts
2022 BTCC Manufacturers/Constructors Championship
2nd Motorbase Performance/Ford, 717pts — RUNNERS UP
2022 BTCC Teams Championship
1st NAPA Racing UK, 582pts — CHAMPIONS
WHAT'S NEXT?
The Kwik Fit British Touring Car Championship 2022 season may be over, but NAPA Racing UK is just getting started.
Jack France continues to sport the NAPA colours in the British Stock Car Association (BriSCA) F1 until the season wraps up in late November, and 2023 promises to be bigger than ever.
Follow @NAPARacingUK on social media to stay updated: