NAPA Wows Delegates at Exhilarating UK Launch Event
---
09 Sep 2019
Category:
You may not be aware of the NAPA name now, but chances are you will be very soon. The US automotive giant kicked off its operations in the UK and France with a fully loaded launch event earlier this week, and we are thrilled to share the dynamic details of a day that will go down in NAPA history.
Get to Know NAPA
Established in the US in 1925, NAPA has been a stalwart supplier of all things vehicular ever since, growing into one of the largest automotive brands in the country. Over the years, the NAPA name has become synonymous with professionalism and reliability. The multimillion-dollar corporation's time-honoured commitment to providing customers with patented NAPA Know How detailing everything they might need to know about the ins and outs of automobiles has gone a long way towards its current level of success.
This month, the UK became the latest chapter in the NAPA narrative, inviting delegates and stakeholders throughout the automotive aftermarket to explore the company's strategic slate for this exciting new market.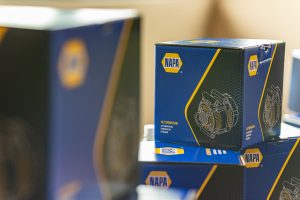 Parts That Promise Performance
Equipped with OE quality engineering, NAPA crossed the proverbial pond with a robust range of All-American product offerings that were bound to make a striking first impression. Products showcased at the event included:
Coil Springs
Vehicle Batteries
Starter Motors
Shock Absorbers
Alternators
In addition to this array of spotlight parts, NAPA will also provide the UK market with an equally effective line of industry-leading garage tools under the 'Carlyle Tools' brand, creating a comprehensive catalogue of products set to offer a distinct value to installers throughout the country. Those fortunate enough to experience the event in person enjoyed a hands-on tour of the NAPA line, with dedicated booths situated throughout the venue and staffed by the brand's in-house experts.
NAPA Master of Ceremonies
Also making an appearance was the mysterious NAPA Master – the masked mascot of the NAPA brand. Preferring to speak with actions over words, the NAPA Master challenged eventgoers to best his time in a state-of-the-art racing simulator atop the NAPA stage. Though no one in the audience could match the master, spectators received an unexpected consolation prize when he revealed his identity for a quick Q&A session. Unfortunately for those hoping for a second-hand account, however, the man behind the racing helmet will remain a secret to everyone else.
With key figures within the NAPA chain of command taking to the stage, the launch event was a roaring success that has perfectly positioned the company to establish itself in the UK and France. As we enter 2020, we hope you will join us on our European journey using our all-new NAPA UK website. We eagerly anticipate exceeding your expectations.