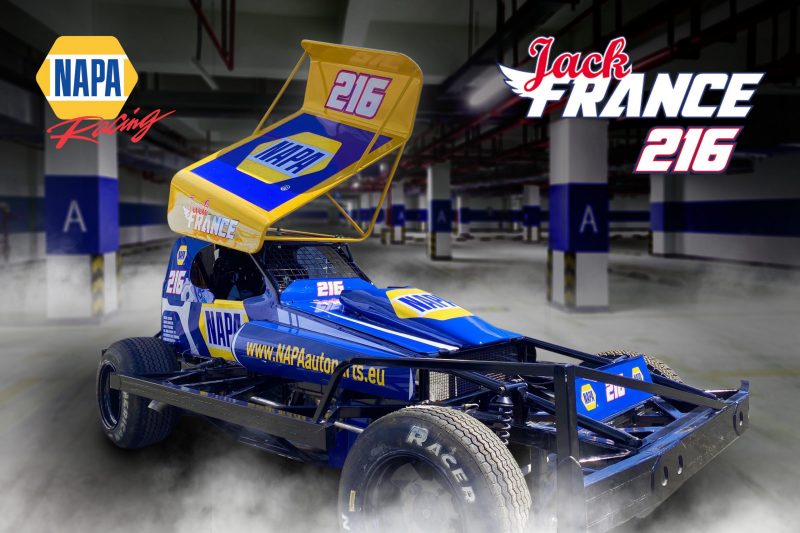 NAPA UK Sponsors BriSCA F1 Stock Car Driver Jack France
---
24 May 2021
Category: Brand News, NAPA News, Sponsorship
With the 2020 partnership with Whitebridge Motorsports established just in time for the 2021 GT Championship, NAPA has recently cemented another UK racing sponsorship with up-and-coming UK-based BriSCA F1 stock car driver Jack France.
"I'm really excited about this season," says Jack, "I've always been a huge fan of NAPA and what it's done with its US motorsport programme. I've closely followed Brad Sweet in the World Of Outlaws series for years, mostly because of its similarities to the UK stock car scene.  It's been a thrill watching him drive his NAPA branded car and I'm looking forward to seeing where my partnership with NAPA takes me. It's just so important to have a strong sponsor in this profession, and NAPA knows how to be that kind of sponsor."
Having achieved victories in 2019, Jack will be making his return to the UK stock car oval racing circuit as it reopens following an abbreviated 2020 season. Participating in a rebuilt, yellow grade, NAPA-branded vehicle, Jack will be flying NAPA brand colours at tracks that include Birmingham, Northampton, Ipswich and the recently renovated Bradford Odsal in the coming months.
Alliance Automotive UK Marketing Director and Chief Brand Officer for NAPA Europe, Dominique Peacock, expressed NAPA's commitment to driving NAPA Europe's involvement in the world of motorsport forward: "Building on our already established and highly successful NAPA motorsport programme in the US, we are excited to support Jack in this year's BriSCA F1 season. We are wholly committed to finding the right national and continental ambassadors for the NAPA brand and we can't wait to see how the season unfolds."
We are excited to closely monitor and report on Jack's progress as the competition develops. With Jack's first race taking place at Northampton on Saturday 29th May, we wish him and his team the very best going forward. To stay informed on Jack and his stock car racing results, make sure to follow the NAPA Auto Parts Europe LinkedIn page for regular updates.