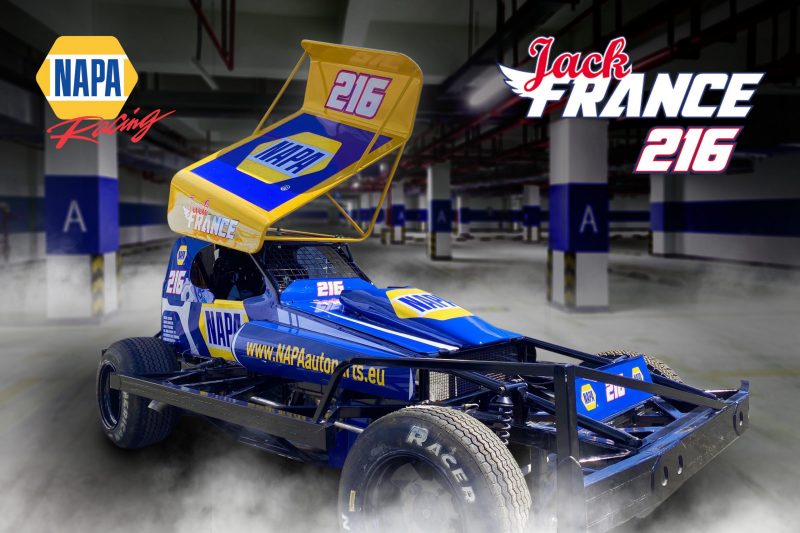 NAPA UK and Jack France Race Through June in BriSCA F1
---
02 Jul 2021
Category: Brand News, NAPA News, Sponsorship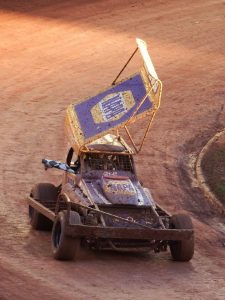 June was a particularly exhilarating month for NAPA-sponsored stock car driver Jack France as he took the early races of the 2021 BriSCA F1 championship by storm. Jack kicked off this month's back-to-back race meetings on 12th June with his second visit this season to the Odsal Stadium in his hometown of Bradford. Returning to these familiar grounds with his newly rebuilt V8 Chevrolet engine, Jack made the most of his home-field advantage with a series of point-scoring placements.
Finishing in 4th place in his heat, Jack secured a position in the twenty lap Grand Final. There, he pulled out some of his best racing this season to earn a respectable 6th place despite heavy opposition. But the competition did not stop there – the final event of the day was the Grand National, which offered an additional opportunity for drivers to amass points before the event drew to a close.
Jack started the final race at a good pace in a circuit of narrow margins and neck-and-neck competition. Despite the intensity, he eventually managed to pull ahead of the crowd to achieve a 1st place victory that was especially meaningful thanks to his local presence with native Bradford racing fans. There was a definite excitement in the air as Jack was awarded the trophy for his electrifying win at the very stadium he had helped prepare for the BriSCA F1 season not months ago.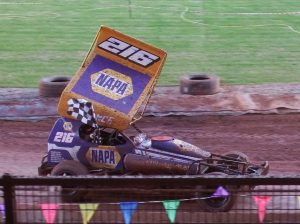 The second race meeting of the weekend shifted the action to Sheffield on 13th June, with Jack carrying his sterling performance of the previous day into a comfortable 5th place in his first heat. With his position in Sheffield's Grand Final guaranteed, Jack went the extra mile in his second heat with a 2nd place finish. These efforts culminated in a 10th place finish in the Grand Final, followed by a hard-fought 5th place in the Grand National.
"What a weekend," Jack stated, still surging with energy. "It was extremely satisfying to see all those endless late nights in the garage tweaking and improving get the car on pace. We're really in it now, and there's so much more to come from the NAPA machine."
Jack's strong finishes over June's race meetings have propelled him into 16th place overall in the BriSCA championship rankings for the 2021 season, earning him a red grade for his efforts.
The team at NAPA is filled with pride as always for Jack and his ongoing stock car successes. We are as enthusiastic as ever to have him representing us in his NAPA-branded vehicle, and we only hope his upcoming races in July will present him with more opportunities to make this season of stock car racing his own.
The BriSCA F1 championship is scheduled for the following race fixtures in July:
Saturday 3rd & 4th July – Buxton (5 pm and 12 pm)
Saturday 10th & 11th July – Skegness (5 pm and 12 pm)
Saturday 17th July – Bradford (6 pm)
Sunday 18th July – Sheffield (12:30 pm)
Saturday 24th & 25th July – Northampton (2:30 pm and 12 pm)
Saturday 31st July – King's Lynn (5 pm)
If you would like to patron your local BriSCA F1 scene at one of these upcoming events, visit the BriSCA F1 website for more information.
For anything concerning Jack France and his racing results, stay tuned to the NAPA Europe LinkedIn page for updates, news, and images.