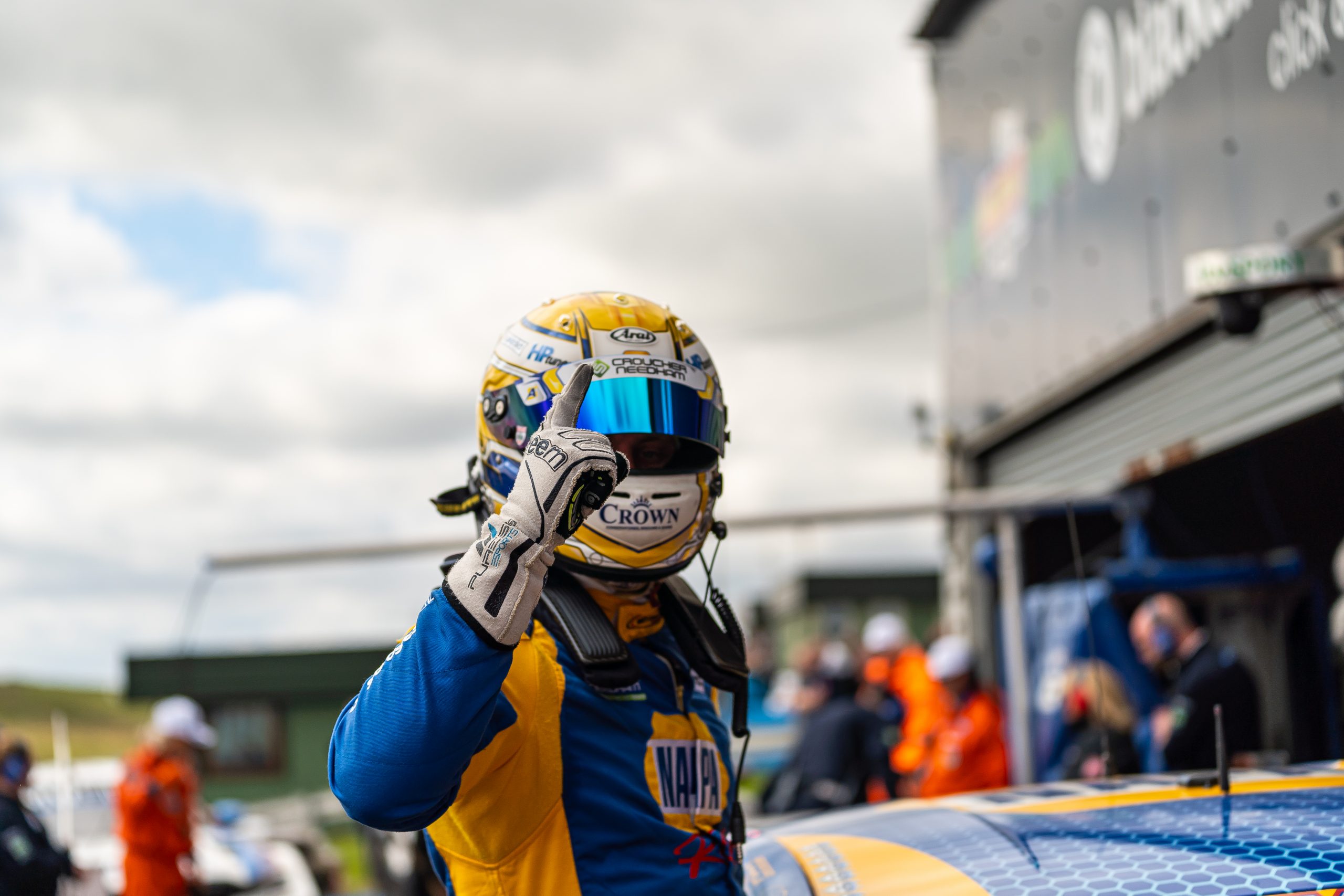 Knockhill Win For NAPA's Ash Sutton
---
02 Aug 2022
Category:
Reigning BTCC champion Ash Sutton delivers NAPA Racing UK's first BTCC victory with phenomenal performance at Knockhill Circuit.
NAPA Racing UK celebrated its maiden race victory in the Kwik Fit British Touring Car Championship (BTCC) at Knockhill Circuit in Scotland on Sunday, 31st July, after a remarkable drive from Ash Sutton secured the win in round 17 of the season.
Knockhill marked the end of the BTCC's mid-season break, which took place over July. The break included the valuable Goodyear Tyre Test, where Sutton claimed P1 and teammate Cammish came close behind in P2. This accomplishment set the tone for NAPA Racing UK's return to BTCC, and the team headed up to Fife, Scotland with high spirits and a plan of action.
BTCC VICTORY FOR ASH SUTTON
To start the weekend right, Ash Sutton delivered his best qualifying performance of 2022, achieving the second fastest time in Saturday afternoon's session. With his blue and yellow Ford Focus ST being the only front-wheel drive car in the top six, Sutton served up a monumental drive in round 16 on Sunday. He pressured pole qualifier Jake Hill from the outset into lap two, when Sutton braked impossibly late on the outside into Duffus Dip and expertly grabbed the lead.
Hill got back ahead into Duffus on lap eight but Sutton refused to cede, and with immense commitment, he moved back into the top spot into McIntyres. On lap 10, though, Hill had the run into the first turn and Sutton had to give way, eventually finishing second on lap 24 after soaking up immense pressure from Colin Turkington's BMW.
Lining up on the front row again for round 17, Sutton held second place. After an early Safety Car period, his opportunity came on lap five when leader Hill ran wide at the chicane. Sutton sliced past and stayed ahead all the way to the flag on lap 26. Although contact from Hill's BMW on the run uphill to the finish line resulted in a terrifying heart-in-mouth moment, Sutton kept his cool and secured first place.
The victory is his first P1 of the season, and NAPA Racing UK's first P1 since joining the championship. In round 18, Sutton capped off the weekend north of the border with a top five result, and he was in the mix for the podium again during the closing stages.
He ends the event third in the Championship Standings and just six points shy of the series lead.
TRAGIC DNF FOR DAN CAMMISH
Just three-tenths of a second in qualifying meant the difference between a front-row start and 10th on the grid for Porsche Carrera Cup Champion Dan Cammish. The NAPA Racing UK driver produced two clean and solid drives in races one and two.
Climbing into eighth early in round 16, he was edged back to ninth by Gordon Shedden's Honda around mid-distance and stayed there to the chequered flag.
In round 17, Cammish again made early progress, climbing into eighth on the first lap before the Safety Car was required. After the race resumed for lap four, he moved up into seventh and pressured Shedden lap after lap. Ultimately, he was bundled back to ninth place.
Great misfortune struck almost immediately in round 18. Cammish started strong from ninth with hopes of a hat-trick of solid finishes. However, as Cammish headed into the second corner, his car was hit by Shedden's Honda, after it had been in contact with Tom Ingram's Hyundai. With a broken suspension, Cammish's retirement from the final round was instant and unavoidable.
THE TEAM
Oly Collins – Motorbase Performance Team Manager:
"What a fantastic result for the whole team! We've been knocking on the door all season with a bunch of P2 and P3 finishes, but the win is what the whole team always want to be celebrating. Ash was outstanding all weekend. From that lap in qualifying through to race day, he was just on a different playing field to the other FWD cars. The RWD cars always have a bit of an edge at Knockhill, so to get the win like that at a rear-wheel drive circuit hopefully bodes well when we get to a more level playing field. We're looking forward to Snetterton already!"
Ash Sutton – NAPA Racing UK, No.1:
"To take our first win of the season — and NAPA Racing UK's first in touring cars — is fantastic and especially against all of the BMWs. It was made a little bit easier with Jake's [Hill] mistake at the chicane. I think he was just trying to match what we were capable of doing through there and that's been our strongest thing all weekend, so I just focused on that and gave it full send every lap. Over the last few laps the front tyres had just had enough, and I was getting to that point as well! I was not letting that one go, I'm just pleased we got the first win for NAPA Racing UK."
Dan Cammish – NAPA Racing UK, No.9:
"We just can't seem to catch a break at the moment. No matter what we do, we just can't seem to get the car where I need it to be. We've shown on several occasions we've got the pace — the tyre test at Snetterton proved that — but in the races this weekend we struggled again to be able to compete how we should. I'm made up for Ash and everyone at NAPA Racing UK and Motorbase with the win, just disappointed the weekend on my side wasn't better. Races one and two were solid finishes, nothing I could do in race three — again, wrong place at the wrong time. We'll keep pushing!"
NAPA AT KNOCKHILL
As an additional highlight to an exciting weekend, the NAPA Racing UK hospitality unit saw record attendance, with NAPA customers making the long drive up to Knockhill for the much-anticipated return of the BTCC. The unit proved to be the perfect spot to watch Sutton claim his victory, and with a great group of people to celebrate with.
The top mechanics inside the NAPA Racing UK team garage have also been making full use of NAPA products, including the new Carlyle Tool Chests!
WHAT'S NEXT?
There's only a fortnight to wait until the BTCC resumes for rounds 19, 20, and 21 of the season, over the weekend of 13th/14th August, at Snetterton 300 Circuit in Norfolk.
THE STANDINGS
2022 BTCC Drivers Championship
3rd Ash Sutton, 221pts
11th Dan Cammish, 100pts
2022 BTCC Manufacturers/Constructors Championship
3rd Motorbase Performance/Ford, 414pts
2022 BTCC Teams Championship
3rd NAPA Racing UK, 321pts
Follow us @NAPARacingUK on social media for updates as the BTCC 2022 season unfolds!