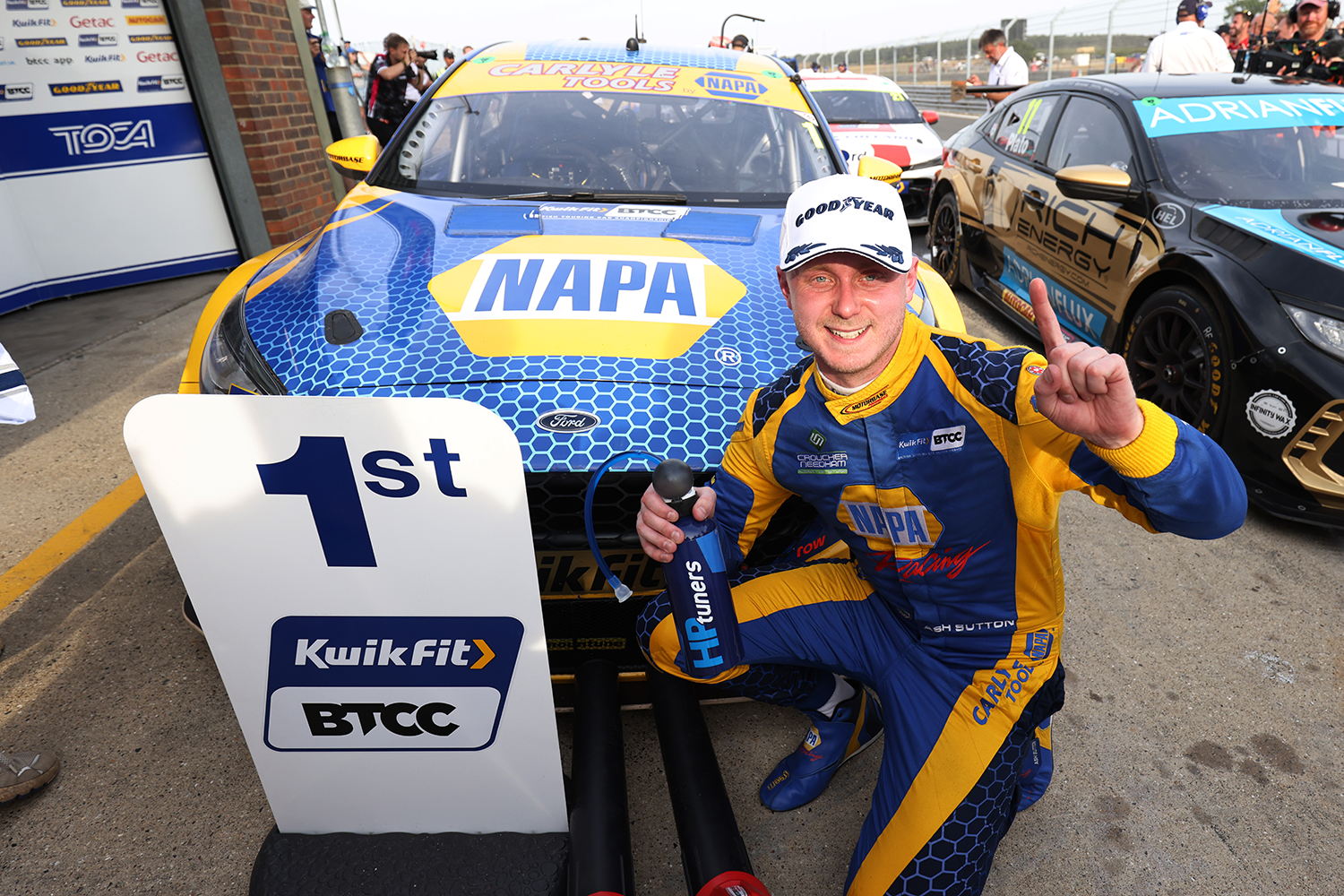 Dominant Win for NAPA's Ash Sutton
---
15 Aug 2022
Category:
NAPA Racing UK's Ash Sutton delivered a dominant P1 victory at Snetterton for the second BTCC race weekend in a row.
After Sutton's success at the previous event at Knockhill, NAPA Racing UK was in high spirits as they arrived at a sweltering Snetterton 300 Circuit for Rounds 19, 20, and 21 of the Kwik Fit British Touring Car Championship (BTCC) on Sunday 14th August.
Ash Sutton started race day at the scorching hot Norfolk track with ninth place in round 19, having qualified 11th quickest. He finished ninth again in round 20 after battling back from a lap one incident involving teammate Dan Cammish.
Starting the last of the weekend's three races — round 21 — from pole position, Sutton made a solid start, before he was edged back to second place out of Riches by Dan Rowbottom's Honda Civic. It didn't take long for his response to come, though, with the #1 Ford Focus moving back through at Agostini.
From thereon, Sutton maintained first place in a phenomenal display of skill. His lead of 0.7 seconds at the start of lap two was built on lap-by-lap, and his eventual winning margin was 4.5 seconds. As the cherry on top, Sutton also claimed the fastest lap of the race.
Meanwhile, it was another weekend of what could have been for Dan Cammish after a strong qualifying — the fastest of the Motorbase Performance drivers with the eighth best time — and a competitive seventh place in race one, achieved after passing Rowbottom on lap three.
Aiming to push towards the podium in race two, and with the car to do it, everything went awry at the second corner while he was running in seventh place. Contact, unfortunately, triggered an incident involving both NAPA Racing UK Fords. Cammish suffered the worst, plummeting down the order outside of the top 20, but he eventually fought his way back through to finish in 18th.
Starting so far back in race three, he did all he could to take the chequered flag just outside the points in 16th position.
THE TEAM
Oly Collins – Motorbase Performance Team Manager:
"It was great to finish the weekend off like that — a fantastic, dominant display from Ash in race three showing what could have been this weekend. That win keeps Ash in the title fight. Unfortunately, the RWD cars were untouchable again this weekend and played with us a bit. We did have more pace than we got to show with numerous innocent incidents over the weekend preventing us from showing the full pace, which is frustrating. We've got nine races left with plenty to play for."
Ash Sutton – NAPA Racing UK, No.1:
"If I'm honest, we made the exact same settings in terms of changes for race two, but the contact and damage we had with Dan put all the alignment out and we were lucky to get back to P9. If I had that race car [from Rd21] in race two, it would've been a different story. It's just mega, I can't thank NAPA Racing UK enough. For the first couple of laps, we set up for the long-term, long race, so she was a bit lively. I saw Jason [Plato] just closing the gap and I thought, I've got to be patient with this. Then his tyres fell away and we carried on — put the head down and set some quali laps."
Dan Cammish – NAPA Racing UK, No.9:
"It's pretty tough to take what happened this weekend, we had the speed and the car to really do something. We got everything we could out of the car in qualifying, seventh in race one was good and I really felt I could compete and everything was positive. We definitely had the pace to move forward in race two but then the contact happened at Turn Two and it all unravelled from there. I really feel we've got the car in a better place. I've just got to dust myself down and try and focus on the rest of the season."
NAPA AT SNETTERTON
With Snetterton track temperatures nearing 40°C on Sunday, it was vital that the NAPA Racing UK team kept cool. Between races, NAPA drivers could be found brandishing water guns and soaking themselves in paddling pools to beat the heat — and the mechanics and hospitality staff joined in too.
Fans could also put their own racing skills to the test in the Racing Bug at the Kwik Fit stand, where cars were liveried just like Sutton and Cammish's iconic Ford Focuses. Dan and Ash themselves even had a go, but we won't tell you who won just yet.
WHAT'S NEXT?
Thruxton Circuit will welcome the BTCC just a couple of weeks from now, over the weekend 27th/28th August, for the second visit of the season to the Hampshire speedbowl.
THE STANDINGS
2022 BTCC Drivers Championship
4th Ash Sutton, 257pts
12th Dan Cammish, 109pts;
2022 BTCC Manufacturers/Constructors Championship
3rd Motorbase Performance/Ford, 480pts
2022 BTCC Teams Championship
3rd NAPA Racing UK, 364pts
Follow @NAPARacingUK on social media for updates as the BTCC 2022 season unfolds!